The Klarif buffing grain is formulated with natural and organic multigrain powder to help remove dead skin cells and promote skin cell renewal.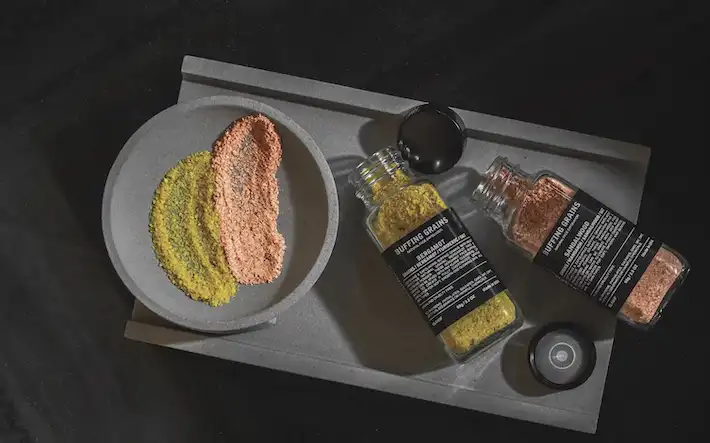 NATURAL & SUSTAINABLE
Klarif is against microbeads. Microplastics can be harmful to the marine environment and animal health.
The Klarif buffing grains are not only natural, organic and sustainable, but also aid in the turnover of skin cells and can leave the skin brighter and smoother, and it's for enhanced exfoliation in the least invasive way possible.
Luxurious grains that can be mixed with any Klarif's cleanser or water to create a fully customized, gentle exfoliator for the face.
OUR COMMITMENT
We are 100% Vegetarian and Cruelty free.

Proudly PETA and Leaping Bunny Approved.
We strive to insure our process of manufacturing and our ingredients are obtained responsibly, ethically and sustainably.
KEY INGREDIENTS
BERGAMOT BUFFING GRAINS
Organic and Natural Multigrain Face Scrub
Unlike microbeads, the Klarif buffing grains are organic and natural multigrain face scrub that is handmade and infused with 100% vegetarian, natural and non-toxic ingredients. Inside every bottle of Bergamot Buffing Grains is a glorious blend of…..
· Multigrain powder to provide both anti-inflammatory and antioxidant benefits due its high vitamin and mineral content
· Bergamot to help stimulate skin cell renewal, redistributing skin pigments for an even and toned complexion
· Turmeric root is a potent anti-inflammatory and antioxidant ingredient very well known for skin lightening and helps slow down skin aging
· Geranium helps boost skin's health and natural glow
No Parabens, No Artificial Colorants, No Phthalates, No Sulfates, Non GMO, MIT, CMIT or Any Other Harmful Chemicals.
Ingredients are subject to change at the manufacturer's discretion. For the most complete and up-to-date list of ingredients, refer to the product packaging.
HOW TO USE
Mix with water or our cleanser, lightly massage onto your skin, rinse and pat dry.
*Caution: Turmeric powder has a tendency to temporarily dye the skin.